Race Matters
Release Date: May 23, 2014
Race Matters and Building Cultural Competence
A DVAEYC Learning Circle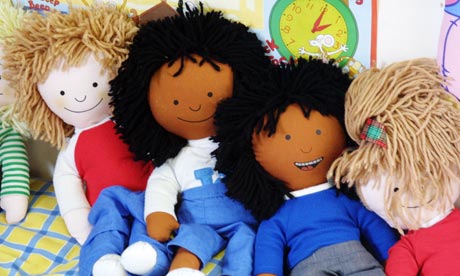 In the early childhood field we understand the importance of accepting and respecting each child, honoring and reflecting back where they come from, and rejoicing in the unique and wonderful contribution that each one brings to our community. We work hard to create an inclusive and supportive environment in which all children can thrive.

We have created a high bar for ourselves! We envision this Learning Circle supporting us as we move forward on three fronts:

How are our programs actually doing in practice? To what extent have we settled for the outward signs (pictures on the walls that show diversity, attention to a minority culture at special events, etc.) while missing the harder work of understanding and responding to how a child's perceptions, assumptions and actions are affected by culture and identity? How can we improve our practice?
How is our understanding growing about how issues of race, culture and identity play out in the field of early childhood? What is the newest research and thinking?
How are we doing personally, with our children, our parents, our colleagues and other adult peers? What have we learned? What are we pleased with? Where can we see our growth? Where do we struggle, make mistakes, and hide? What do we want for ourselves in this area?
We envision meeting every four to eight weeks, either early on a weekday evening, or on Saturday afternoons.

Of course, both the structure and the content of the Learning Circle will ultimately be shaped by the needs of the participants, so we look forward to hearing from you about your visions and hopes.

If you are interested in participating, please be in touch with Kim Farmer (kim@dvaeyc.org) or Pamela Haines (pamela@dvaeyc.org).